Parents: Here's How To Quickly And Easily "Cure" Your Fussy Toddler's Eating Problems… And Instantly Eliminate Annoying Food Battles From Your Home — Once And For All!
Dear Parent,
Are mealtimes a nightmare in your house?
Do you catch yourself bribing and begging your toddler to try "just one bite" of their vegetables?
Do you literally lie awake at night worrying that your child is not getting the kind of diet they need to be happy and healthy?
If so, it is very important that you take a moment to read through the information on this webpage, as it could literally solve all your child's food problems once and for all — within a matter of days!
How To Know If Your Child
REALLY Has A Problem…
If you're like most parents I know who are concerned about their child's eating, you've probably been told by friends and family that "they'll grow out of it" or that you're "worrying too much."
They *might* be right. Some children will eventually grow out of their eating problems — and some parents DO worry too much. But there are also a LOT of children who aren't getting the kind of diet they need to lead happy, healthy lives. Some of the most common signs that your child might be at risk include:
Your child will drink milk or juice — but seems to dislike solid foods. An all-liquid diet is fine for newborns, but the digestive systems of older children NEED a certain amount of solid foods. Keep reading to find out to wean your toddler of their milk or juice habit.
Your child regularly throws tantrums at mealtime. This is not only embarrassing for parents, but it could also be causing

a negative association about food that can last a lifetime

. I'll explain how to stop this behavior almost

instantly

in a moment…
Your child will only eat "white foods." White bread. White rice. Soda crackers. Cereal. (Okay, maybe I should call them "beige foods.") But the fact is that these kinds of food are generally low in nutrients, and your child's body NEEDS the vitamins and minerals found in fruits, vegetables, and whole grains.
Your child is constantly begging you for snack foods and sweet treats. When your son or daughter refuses to eat lunch, only to start pleading for cookies or potato chips 5 minutes later,

you've got a problem.

Luckily, there's a

quick fix!

Keep reading to find out what it is…
Your child flatly REFUSES to try new foods. Sure, lots of kids are fussy eaters… But if your little one NEVER eats anything besides his or her 4 favorites,

I'll show you a foolproof way to introduce new, healthy foods they'll actually try…
If any of this sounds familiar, believe me that you're not alone.
And the good news is that there ARE some simple strategies that you can start using today to quickly solve your child's eating problems.
Want PROOF that my fast and simple suggestions really work? I thought you might… so I've put together a FREE resource for you! Not only will you get a sneak peak at how my methods work, you'll also get a step-by-step plan for dealing with one of the most common food challenges parents face!
The One-Day Sweet Tooth Solution (Free Download!)
To show you just how fast and simple the solutions to many BIG parenting problems can be, I've got a free gift for you…
Here's the story: After struggling for years with my own child's "incurable" sweet tooth, I finally teamed up with a child nutritionist and came up with a solution that works almost immediately!
When you grab your FREE copy of "The One-Day Sweet Tooth Cure," you'll learn:
How to teach your child the difference between a "treat" and a nutritious snack — and get them to actually PREFER healthy choices!
How one simple "tweak" will instantly eliminate begging for sweets, treats, and sugary snacks! (Warning: This will sound a little crazy the first time you read it!)
The surprising ways that food companies hide sugar in supposedly "healthy" foods (like whole-grain cereals!)
I should tell you that the "One-Day Sweet Tooth Cure" goes completely against conventional wisdom — so all I ask is that you read it with an open mind… and give it a try for yourself!
I think you'll be as surprised as I was by the almost INSTANT change in your child's approach to sweets!
(This information will NEVER be shared with anyone else. Click here for my privacy policy.)
Who Am I — And How Can I Help Your Family?
Now, I know you may be wondering who *I* am to be telling you how to solve your child's food problems. That's an important point, because as a parent you have a responsibility to make informed decisions about your child's diet. And you should be careful to make sure that any advice you take is coming from people you can trust.
My name is Dana Obleman, and I am a best-selling author and recognized parenting expert, but I'm best known as an infant and child sleep specialist. I've appeared on national television, been a featured guest on a syndicated radio talk show, been interviewed for several major newspapers, and appeared on a number of regional television news programs.
Over the years, I've noticed that a lot of the parents who sought me out to solve their children's sleep problems would often get back in touch with me to talk about issues surrounding food.
And here's a little confession: I myself had *serious* struggles with my first son's eating. He was a "sugar junky" and would have lived on milk and bread. He wasn't gaining weight well, and was very small for his age.
After months of struggle and frustration, I was referred to Tracy Lamerton, a well-respected nutritionist and registered dietitian who works with babies, toddlers, and young children.
Tracy is a real "no-nonsense" type whose gentle, 'family-centered' approach to nutrition and diet has made a dramatic difference in the lives of hundreds of families — including mine! And so you can imagine how thrilled I was when Tracy agreed to collaborate with me in creating a complete resource for parents that were having challenges with their children's eating.
How To Have The Healthiest Kid On The Block!
Tracy and I spent the next 14 months working together closely to create a comprehensive, easy-to-follow, step-by-step program that parents like you could use to quickly and easily solve your child's eating problems — once and for all!
We were both frustrated with the lack of REAL advice out there for people who are concerned about their children's eating habits. I mean, it's fine to tell us that our kids need 5 servings of fruits and vegetables every day… but how the heck do you get your fussy toddler to actually eat them?
Right?
And that's why we've spent SO much time developing a complete resource that literally tells your everything you need to know about turning your fussy toddler into a happy, healthy child who really enjoys nutritious food. It's called "The Food Sense Program: How To Quickly And Easily Eliminate Food Battles With Your Child — And Get Them To Actually Enjoy Eating" and here's how it works…
Straight Answers To Your Important Questions
"The Food Sense Program" was created with the busy life of today's parents in mind. I wanted to make sure that all the information you needed was presented in a clear, easy-to-follow way that would allow you to make real improvements in your child's eating habits starting immediately.
You'll discover:
How to stop food battles with your toddler once and for all. (It has almost nothing to do with food, and everything to do with table manners. I'll show you

the secret to ending meal-related power struggles

in Chapter 1.)
How to know

exactly

how much food your little one needs to be healthy. (Many parents are, frankly, STUNNED when they read the facts on page 25…)
The truth about why threats and punishments should *never* be used to deal with a picky eater… and what to do instead. And surprisingly, it has

nothing

to do with rewarding them for "good" eating, either!
The alarming truth about fruit juices. Even 100% pure fruit juice with no added sugar should be limited to

very

small servings just

once

per day.
The TWO critical decisions about ALL food that you MUST leave up to your child. (And

the two decisions that the parent should ALWAYS make

. See Chapter 3.)
The "comfort food" dilemma. Did you know that the sensations of hunger and anxiety are very similar? This is why what you give your child when they're sick, sad, or hurt can lead to

serious

food problems in later life.
How the "Just One Bite" rule could be destroying your child's relationship with food. If you're rewarding your toddler with ice cream every time they eat their broccoli,

you should stop immediately

. See page 40 for more on why…
… and much, much more!
How To Stop Worrying And
Start Enjoying Mealtimes Again:
Parents like you have been thrilled with the results of "The Food Sense Program" because it almost instantly eliminates stress and worry surrounding your child's eating. The most important way it does this is by shifting the responsibility for making healthy eating choices away from YOU and onto your child — where it should be!
It sounds crazy, right? A toddler making intelligent, healthy decisions about their own diets? Well, here's where the "magic" comes in… When you follow "The Food Sense Program", it's actually IMPOSSIBLE for your child to make bad choices! There's no chance to fail!
Just listen to what Tammy Lyon of Vancouver, Canada had to say: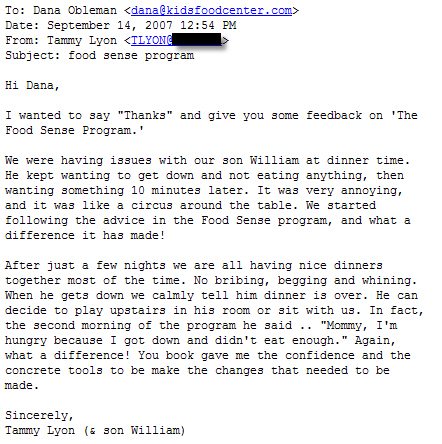 Now, I'm not going to promise you that your child will be happily eating broccoli by this time tomorrow. Some of the strategies in this program DO take some time. But it also contains a TON of "quick fixes" that really do start to work right away, like:
| | |
| --- | --- |
| | An easy "food presentation" trick that can often eliminate dinner battles once and for all. See page 30. It may sound too good to be true, but it really, really works! |
| | The simple rule that can erase your child's candy cravings. And if you're willing to follow it, you can cure your own sweet tooth, too! Check it out on page 45… |
| | Why you should never sneak "healthy" foods into your child's favorite meals. Those of you who have tried putting peas into grilled cheese sandwiches know who you are 😉 I'll show you the trick to get your toddler willingly eating their veggies… |
| | How to put an end to the "dessert debate." If your child will ONLY eat their meal if they are promised ice cream or cake afterwards, you'll want to pay special attention to page 29. |
…and much, much more!
No-Nonsense System Means
You See FAST Results!
If you're serious about solving your child's eating problems, you may have already purchased a book or two from your local bookstore. (There are plenty to choose from and I've read just about all of them!)
And if you've taken the time to read through any of these books, you've probably discovered that they're full of:
rigid meal schedules — that not even the most organized parent could possible follow!
complicated nutritional charts and formulas. (Who knew you needed to be a scientist to feed your kids?)
time consuming recipes with strange ingredients. (Who the heck has 45 minutes to spend cooking breakfast?!
… and very little "real world" advice for BUSY parents like us!
That's why "The Food Sense Program" is so much more than just a book. It's a complete system that's been tested by REAL families — and REAL kids like yours have proven that it works… guaranteed!
And the best part is that you can get it all for a small fraction of the $300 it would cost to meet with me in person… and less than the $140 you'd pay JUST for an initial consultation with Tracy Lamerton or another professional nutritionist… and even less than what you might pay to take your family out for a dinner — that your kids might or might not eat!
In fact, the total cost of "The Food Sense Program" is just $44.
PLUS — for a limited time, I'm giving every parent who claims their copy today a TON of exciting bonus products that give you absolutely EVERYTHING you need to fix your child's eating problems — at NO COST!
You get:
BONUS #1: The "Food Sense"
Kid-Tested Recipe Guide
(Value: $17 — Yours FREE!)
One of the easiest ways you can get your fussy toddler to start eating and enjoying healthy food is to serve food that they actually like!
And these days, competing with all the fatty and sugar-filled fast food that are SO appealing to children can be a real challenge for busy parents.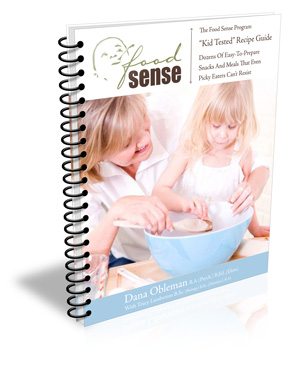 That's why I'm including this 52-page recipe guide that is packed full of delicious AND nutritious meals…
… most of which take only minutes to prepare! And the best part is that ALL the recipes in this book are proven favorites with even the fussiest of eaters!
You'll get dozens of easy-to-prepare recipes for breakfast, lunch, and dinner. Plus, you get a ton of simple and healthy snack ideas, too!
The "Food Sense" Kid-Tested Recipe Guide is valued at $17, but is yours FREE for a limited time!
BONUS #2: The "Food Sense Program"
Success Guide And Resource Book
(Value: $27 — Yours FREE!)
Because "The Food Sense Program" was designed to be a COMPLETE system for you and your family, I'm also including this comprehensive, 20-page bonus guide which includes absolutely everything you need to guarantee your child's success. You'll get:
a "food favorites" resource so that you can see exactly what your child does and does not currently eat.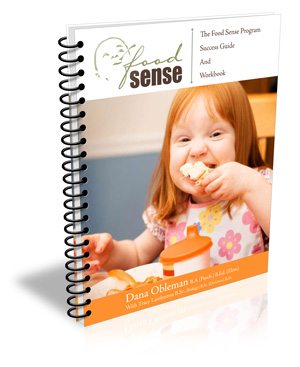 a "food contract" for you and your child to look at at sign together. (This may sound silly, but it's actually CRITICAL to your success!)
a complete "food log" that you and your child can fill out after meals.

This gives your child a sense of pride

— and gives parents a real way to measure their child's progress.
… and much more, too!
The Success Guide and Resource Book is a $27 value , but yours FREE for a limited time!
BONUS #3: "The Food Sense Program"
Fun With Food Activity Book
(Value: $12 — Yours FREE!)
One of the best ways to deal with children and food problems is to make food and healthy eating FUN!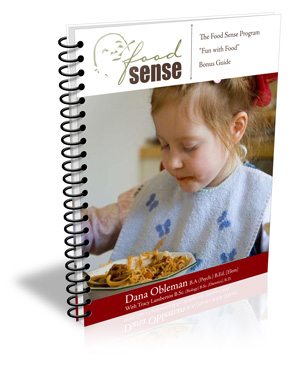 However, it's important that you don't confuse "fun" with games that force your child to eat things they don't really want. (All you 'open the hanger, here comes the airplane' parents know who you are!)
So, for a limited time, I'm including this "Fun With Food Activity Book" at no extra charge. It contains great ideas for kids of all ages, including:
simple food-based games for your toddler.
a great "food art" project for your pre-schooler.
fun food contests for your school-aged child.
… and much more!
Remember, this $12 value is your FREE when you claim your copy of "The Food Sense Program" today!
These three bonuses (valued at well over $50 but yours FREE) are available for a limited time only. And please note that they are ONLY available as part of "The Food Sense Program" and are available when you order from this website ONLY!
Zero-Risk Offer Means "It Works Or It's Free!"
Now listen: You've heard me say that I guarantee this program to work for you and your family. And yes, I realize that's a very bold statement. After all, I don't know you or your child personally… so how could I possibly make such a claim, right?
Well, the truth is that — even though "The Food Sense Program" has proven itself with an extremely high success rate — there is always the chance that it won't be right for your family.
And that's why I'm going to remove all the risk for you!
Here's how to get INSTANT access: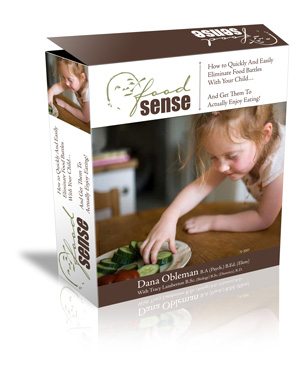 If your child is struggling with food and eating, you'll be glad to know that these problems CAN be solved — quickly, easily, and all while getting your child to actually ENJOY healthy meals.
Just picture in your mind what it will be like sitting down to a family dinner by this time next week with no fuss… no tantrums… and everyone happily eating a nutritious, satisfying meal!
And the best part is that you can get started immediately! To get instant access to "The Food Sense Program" — including the three bonuses valued at $54 but yours FREE — just click on the button below: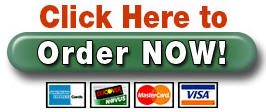 Remember, everything is delivered electronically, so there's no waiting. You'll have complete access — instantly!
Oh, and don't forget that we're real people! You can contact us anytime by e-mail (dana@kidsfoodcenter.com) or by telephone at (888) 843-6945.
Sincerely,
Dana Obleman, B.A. (Psych.), B. Ed.
Creator of "The Food Sense Program"
P.S. I know you probably found your way to this website because you were searching for information on how to deal with your fussy eater. But there's something else even more important I want you to think about…
Children today are bombarded with non-stop ads for junk foods and sugary soda that are contributing to skyrocketing levels of childhood obesity and diabetes. Serious eating disorders like anorexia and bulimia are also on the rise — starting in children as young as 6 years old!
That's why creating a healthy relationship with food at a young age is SO important. And that's why — from one parent to another — I strongly encourage you to take positive action to address your child's eating problems… especially since it can be so easy to do!
Click here to order "The Food Sense Program " on our secure ordering page!